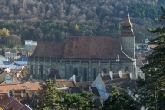 The Black Church rises from the North West of the Council square in the centre of Brasov and dominates the whole square.
Built in 1385 and originally called St Mary's it was renamed the Black Church in 1689 after the great fire of Brasov which destroyed many building and left the walls of the Black Church blackened. More.........


The museum of the First Romanian school was built in 1495 and preserves elements of the Baroque style from the changes that were brought to it in between 1760 and 1761.
Between 1557 and 1583 Deacon Coresi printed 17 titles here. More.........

The Old city of Brasov, formerly called Kronstadt by the Saxon settlers is one of the best preserved old cities in Europe today. With many of its old fortifications systems still very visible. More..............


Rasnov hill top fortress was built as a refuge by the Saxon settlers in the middle ages to protect themselves from the frequent invasions by the Tatars and the Turks.
The fortress sits on rocky outcrop and offers fantastic views of the valley and towns below. More.....


Bran castle was built by the Saxons in 1377 to project the gateway to Transylvania.
The castle attracts a large number of tourists as its promoted as Dracula's castle, but Vlad III Tepes, the real person behind the Dracula castle probably only spent a few days at the castle. More...........


Sighisoara is old Saxon town about a 2 hour drive from Brasov, heading towards Targu Mures.
The town is a stereotype of one would expect from a Transylvanian gothic town and it does not disappoint. its gothic appearance and a mixture of Disney fantasy and a touch of Dracula horror movie. More......
The Main Tourist Spots in Brasov
The city hall or the "Council House" was built in the central square of the old walled city in 1420.
The building has hosted the Brasov History Museum since the 1950's. More..........